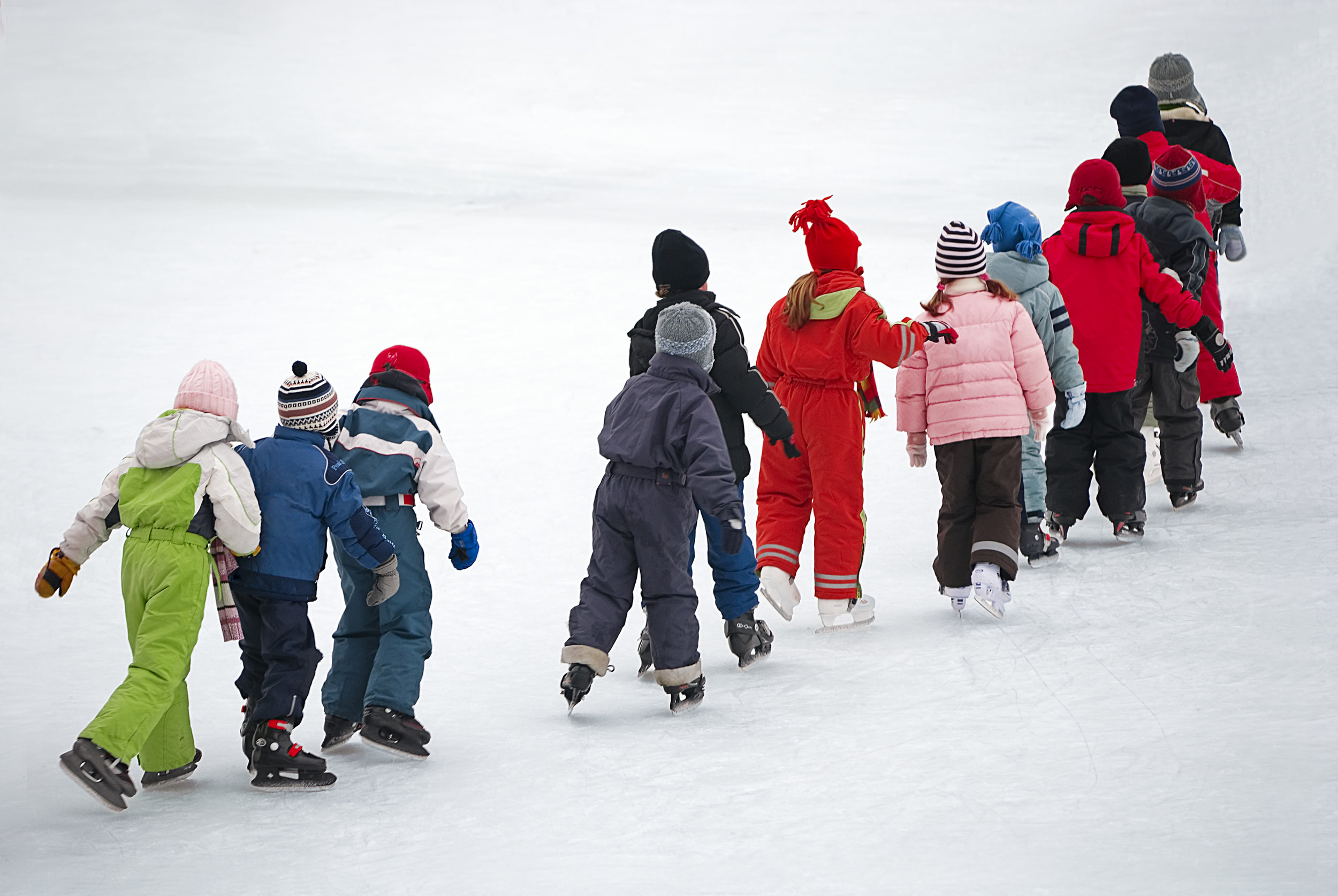 TINY TOTS
This is a class dedicated to ages 18-36 months. This is a 30 minute class. Tiny tot class is the first step towards learning how to skate. Each week the class will meet off ice and start to work on making their way over the course of five weeks to getting on the ice to skate. Students will learn how to fall, stand up, and march off ice on their skates and work on the skills to do the same on ice.
TOTS
This is a class dedicated to beginner skaters, for ages 3-5 years. The class focuses on standing on skates, falling and getting up, as well as marching to pushing. Each class incorporates games, singing, and playgroup activities on the ice.
YOUTH BEGINNER
Age range is 6 years old and up. This class is for the first time skaters to develop confidence in standing, pushing and basic skating skills, along with safety. Your child will gain confidence and speed through skill drills and games.
BASIC SKILLS
This class is for skaters 6 years old and up who have learned the basics and would like to develop skills in crossovers, backward skating, tricks for figure skaters and hockey players. The sky is the limit in this class!
SPECIAL NEEDS CLASS
We now offer a class for special needs students. This class will focus on the beginning stages of skating with a 2:1 student/teacher ratio. Please call for more information.
ADULT
The adult class is geared toward everyone...whether it's your first time on the ice or as a skilled skater, the coaches focus on basic skills, edges and detail quality in this class. Enjoy a great alternative winter workout while challenging yourself to learn new skating skills.
STERITI MEMORIAL RINK
561 Commercial St.
Boston, MA 02114
O'Neill Memorial Rink
150 Rutherford Ave
Charlestown, MA 02129
O'Neill Memorial Rink
New 2019 Dates!
Session 1
November 17, 2019 - December 22, 2019
Sundays @ 9:00 am
(6 Weeks) / $150

Session 2
January 5, 2020 - March 15, 2020
Sundays @ 9:00 am
(9 Weeks) / $225

No Class 2/16 & 3/1
Steriti Memorial Rink
Session 1
November 16, 2019 - December 22, 2019
Sundays
Learn to Skate @ 2:00pm
(6 Weeks) / $150
Tuesdays
Tiny Tots @ 5:30pm
Learn to Skate @ 6:00pm
(5 Weeks) / $125
Thursdays
Learn to Skate @ 5:00pm
(4 Weeks) / $100
No class 11/28
Saturdays
Tiny Tots @ 1:30pm
Learn to Skate @ 2:00pm
(6 Weeks) / $150
Session 2
January 4, 2020 - March 15 2020
Sundays
Learn to Skate @ 2:00pm
(10 Weeks) / $250
No Class 2/16
Tuesdays
Tiny Tots @ 5:30pm
Learn t o Skate @ 6:00pm
(10 Weeks) / $250
Thursdays
Learn to Skate @ 5:00pm
(10 Weeks) / $250
Saturdays
Tiny Tots @ 1:30pm
Learn to Skate @ 2:00pm
(10 Weeks) / $250
No Class 2/15